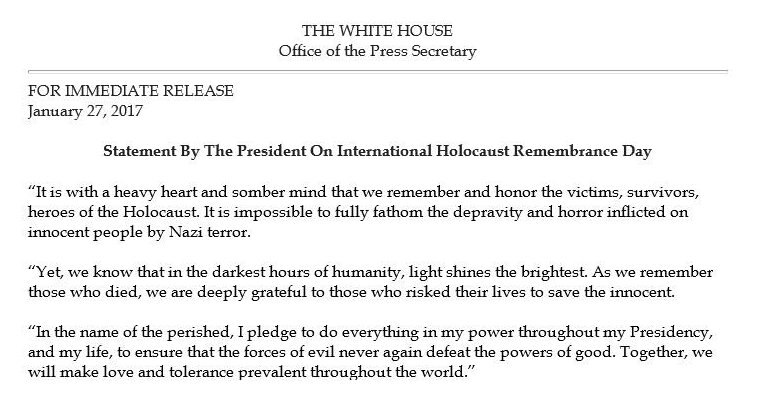 As you know, I protested Holocaust Museum January 5 and 6. Once with megaphone. I had long talk with White Race director. "Save White Race." "Jews lied about Holocaust." "Where's Polish Christian version of the Holocaust." I was freezing so badly I didn't stay out long. My hands became frostbitten and I was alone. Police challenged me about 7 times. Did they do same to traitor Madonna or Black Lives Matter or gay or feminists? All weapons against White male and Race and me.
Now it's at the highest level. President Trump regards the "innocents" at the Holocaust. He doesn't mention 6,000,000 of Jews. First time since World War II! Big win! Jews are not innocents but guilty of 1,000 years in my Poland – America monolithic proportions. My Polish 1,000 years victims of Jew crimes, banking, White slavery for men and women, and wars. Jews are not "innocent." The 'Gypsies' in those camps are thieves and guilty. So it had to be my "innocent" Polish Slav's or "Slaves" as Melania Trump comes from Solvenia also a Slav, Slave nation, can attest to. Although only Poland had to endure the torture and enslavement of Jews where most Jews come from.
So far my protest of L.A. Federal Reserve Bank addressed with his nomination of Rand Paul whose father protested Federal Reserve Bank. He's building wall against Mexico. I protested 2007 against them in Vegas. Brother John pioneered pro-Life 1960s and treated terribly. Now Christianity's #1 issue as is for Trump. (Hopefully healthy White babies to save our race.) President Trump attacked media (Jews) as I and many others have. Attacked Hillary I grew up just a few miles from her. He signed annulling Chinese Transatlantic Agreement. I wrote Veteran husband's suicide result of Yellow Chinese and Jew Communists. His words on the battlefield, "We were never fighting Vietnam, but China. As  wrote you yesterday, 22 divisions of Chinese (16,500) against 1 division of US Marines, perhaps all White men." Both China and Jews dangerous. Even Hindus who hide in background. It's time for Whites to unite.
http://talkingpointsmemo.com/livewire/donald-trump-first-president-not-mention-jews-holocaust-remembrance-day-statement