Jew Pyromaniacs!! Greedy Jews!! Exploiting Jews!! This tops the cake for Jewish nastiness to "get ahead." (of White USA males)  Although this happened March 25, (today) 1911, about 1880's Jews were responsible for 2 Great Chicago Fire. (check my blog bottom right and http://andrewcarringtonhitchcock.com/?s=telemachus) I found this without even trying. For every crime a criminal (Jew) does, he/she has done 1000 more and as in this case and in all cases I've written. Jews have gotten away "scot-free." Also Jews killed their own in ship "Patria" World War II (blamed Germans? like Katyn?) And Jews of Israel nearly sank USS Liberty Ship, June 8, 1967.
The workers for the two Jew bosses, jumped or fell from windows just like 9/11 at Jew Larry Silverstein's 2 World Trade Centers, (he got paid "double indemnity" for "all 7 buildings" Renaming "Freedom" for Jews and the 92% of the non-Whites from what Jews defamed Whites with as evil White. Yet it was Jews who brought the blacks here in USA and forced them on us. Jews kept my Polish-American people in the worst slavery ever on the face of the earth . . . secret . . . until this blog. I'm Polish-American as was my deceased US Marine Purple Heart Hall of Honor Vietnam, suicided, like 200,000 only White men who suicided Vietnam. No other race or religion. Here's how Jews Holocausted their own people in New York. They also lied about World War II "Holocaust."
There was a romance between the Jewess niece and one of the poor employees: Florin. Here's meaning of name Florin. Sounds Catholic but means "gold."
"Florin is a money format originally derived from gold coins struck in Florence, Italy. The format was also borrowed by many other countries such as the Australian Florin, and the Aruban Florin which is still in use today."
Could the 2 Jews want to kill the Catholic Christian / Jewess future marriage? Yes. Autobiographically speaking, I worked at Legal firm in Skokie, Illinois. Jewess lawyer in legal firm. Odd but it was right across the street from where my poor starved, beaten, frozen Daddy slaved his white fingers to the bones for Jew book publishing company, Fawcett. 4545 W Touchy Avenue. Skokie: Home of the 2nd Holocaust Museum, USA, as if Jews and their imps confiscating our entire treasury 1913 until today with Federal Reserve Bank wasn't enough.
Jews controlled comic book publishing as this one published by Fawcett. Even Canadian Ernst Zundel has a great youtube on Jews and comic books which they published 70,000,000 a month to affect the youth (and men) to "hate the white Germans Natiolists," and Canada and USA kicked him out and away from his wife back to Germany. The Jew Communist laws threw him in prison, (I think 7 years solitary and forced to watch CNN Jews) His attorney Stolz, also imprisoned. And Jews . . . well they get off scot free for their treachery against Whites (even descendants of Christians who they hate.)
Heres' the madness Jews convinced us with: They pulverize us and put us into their devilish cult where we worship them 24.7. I'm free. Finally. I've made my 1,000 peace of sorts.
Note the German White (Christian) faces afraid of the Jew Whiz. Jews power is just an illusion and delusion. Madness for we "believe" and "believe" is thwarting a Christian principle.
The Jewess called me in her office and degraded me the worst possible way. She said her Jew brother was getting married on Saturday. (and I wouldn't have known she was a Jew unless she told me.) She said she was infuriated he was marrying a (White) Gentile and refused to attend the wedding. Worse, her Jew parents, were not going and disowning their Jewess son. Jews mean business about keeping their race pure as they did in Poland now here 1,000 years!
Just some highlights from other sites: It was payday for 700 employees, who probably never got paid. Also, the 2 Jews paid the victim's families $200,000 of (White) insurance money heist.
The 2 Jews made shirt-waist dresses, which were high necked. Jews covered up the White cleavage so they could sell baby formula, make breasts "taboo and sexy" so Jew advertising and porn could make trillions. I've showed cleavage in my costumes and entertaining because I breastfed as God made them for 3 1/2 years each son. For that I was nearly burned at the stake in the USA by even Christians. The 2 Jews fired 150 workers right before the worse fire in history,  who wanted to form unions against their terrible treatment and low wages. (I bet they never raped the Jewess women just the Italian Christians as Jew doctor raped me Chicago.) Think of Daddy's suffering under Jew bosses 35 years. It's why we nearly starved, severe depression, freezing, poverty stricken, worse domestic violence  in Chicago history.
The 2 Jews refused to sign union contract but forced to raise their salary. Autobiographically speaking, Jews refused to give poor Daddy (family 15) South Chicago, a raise in 35 years unless government strong armed them, which the government may have to do again.
The 2 Jews exploited their female workers. I know at least 10 White (Christian) women who work for rich Jews underpaid and Jew's White sex slaves on top of it! I almost got into same predicament but quit the job! (seems Joseph J. Asch owner of building was also Jew)
Italian immigrant women aged 16 to 23;[2][3][4] of the victims whose ages are known, the oldest victim was (White Italian Catholic) Providenza Panno at 43, and the youngest were 14-year-olds Kate Leone (White Italian Catholic and "Sara"  (White Catholic I wonder if the 2 Jews molested these frightened foreign European women as Jew Leo Frank strangled Little Mary Phagan and nearly got off scot free) . . . Rosaria Maltese.[
https://books.google.com/books?id=VitlO1mWxzAC&pg=PA1910-IA1&lpg=PA1910-IA1&dq=what+city+was+max+blanck+born+fire&source=bl&ots=Ub-nBlDFYI&sig=5WKFSXvrTqTb8W8xCSorHbMvYdg&hl=en&sa=X&ved=0ahUKEwixnPWSjvPSAhWB7YMKHST8CAEQ6AEIWDAJ#v=onepage&q=what%20city%20was%20max%20blanck%20born%20fire&f=false
Wiki: A series of articles in Collier's noted a pattern of arson among certain sectors of the garment industry whenever their particular product fell out of fashion or had excess inventory in order to collect insurance. The Insurance Monitor, a leading industry journal, observed that shirtwaists had recently fallen out of fashion, and that insurance for manufacturers of them was "fairly saturated with moral hazard." Although Blanck and Harris were known for having had four previous suspicious fires at their companies, arson was not suspected in this case. (The shirt-waist dress industry was out of fashion by then.)
(Jewess stealing?) and the door to the Washington Place stairway was locked to prevent theft by the workers; the locked doors allowed managers to check the women's purses.
9 minute audio by a woman named (Rosie) who was from Galicia, Austria, where my poor White Christian daddy, miserable slave for Jews, came from. The same vicious town with high Jew population who starved my Daddy's ancestors to death, 50,000 a year. Then Jews put on golden glittery robes and robbed their corpses. Jews keep reminding Whites of a lie where we enslaved blacks not Jews bringing them here, 75% of Jews had black workers and first worker slave was owned by black not white. Jews enslaved my White people 1,000 years. Poland.
See wiki: right middle for audio: https://en.wikipedia.org/wiki/Triangle_Shirtwaist_Factory_fire
Jewess (and White Catholic Christian Italian) women (although I don't know how many Jewess and how many White Christian women): "I learned a new sound that day, a sound more horrible than description can picture — the thud of a speeding living body on a stone sidewalk".[
Wiki: Consequences and legacy
The company's owners, (Jews) Max Blanck and Isaac Harris, who survived the fire by fleeing to the building's roof when the fire began, were indicted on charges of first- and second-degree manslaughter in mid-April; the pair's trial began on December 4, 1911.[43] Max Steuer, counsel for the defendants, managed to destroy the credibility of one of the survivors, Kate Alterman, by asking her to repeat her testimony a number of times, which she did without altering key phrases. Steuer argued to the jury that Alterman and possibly other witnesses had memorized their statements, and might even have been told what to say by the prosecutors. The prosecution charged that the owners knew the exit doors were locked at the time in question. The investigation found that the locks were intended to be locked during working hours based on the findings from the fire,[44] but the defense stressed that the prosecution failed to prove that the owners knew that. The jury acquitted the two men of first- and second-degree manslaughter, but they were found liable of wrongful death during a subsequent civil suit in 1913 in which plaintiffs were awarded compensation in the amount of $75 per deceased victim. The insurance company paid Blanck and Harris about $60,000 more than the reported losses, or about $400 per casualty. In 1913, Blanck was once again arrested for locking the door in his factory during working hours. He was fined $20.[45]
Note in this movie Crime of Carelessness Jew Oppenheimer gets White Thomas Alva Edison to make this film saying a "cigarette" started fire. In study a large bin "exploded." This was 1911. Jews end up stealing White Edison's invention, gauging him and his wife for the rest of their lives, and ran to Hollywood. All movies we have seen, 1927 until today: Jews against Whites. By the way, "Oppenheimer" is signature of the atom bombs dropped on Hiroshima and Nagasaki, not White President Truman's. Also it was Jew Oppenheimer who made the "I Love Lucy" series. And even a few days ago, I saw Dick Van Dyke, say on youtube it was startling for it was a race-breaking couple in the 1950's. Ricky Ricardo was Cuban or Spanish not Mexican but Jews used him as a safe way to break down pure White race and begin the Mexican takeover. (by 2042, Mexicans majority USA, happiest people n the world, Whites minority, damaged, old, all laws against us, bankrupted.) It's just like Senate Bill S 198, anti-Semite bill is sponsored by Cuban-American Senator Rubio. He's just a Hispanic shield to pass that law as well as Boozman (Jew chose him to entice like booze-man, Jew Blumental, Sherrod "Brown" Jews favorite name as in their lawsuit which forced Whites to integrate schools which has brought our schools down to 31 lowest of 31 industrialized nations. It used to be the Polish lived in the dungeons of hell and Jews in paradise, but now in USA and only the "beginning," of our suffering and losses. Tim Kaine, famous for being Hillary's running mate, Orrin Hatch, Mormon, James Kankford, Baptist (perhaps worships Jews erroneously as Chosen in bible) Robert Menendez, Mexican, Bill Nelson, famous for space shuttle, David Perdue (Jews run chicken industry which is why we probably eat so much chicken) Gary Peters, (Peter name for male organ) Brian Schatz (sounds like shots of whiskey) who is Jewish. Jews and their imps laws to silence Whites to even talk about Jew crime even if real.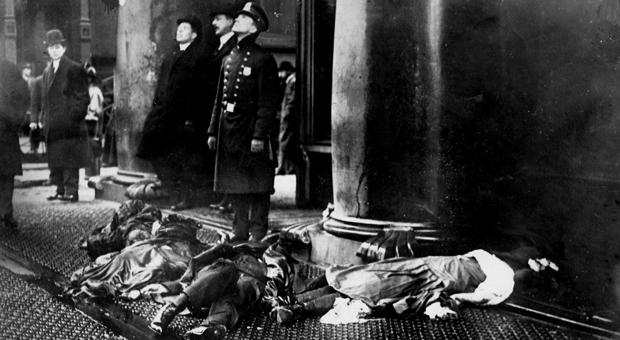 The circumstances surrounding the Triangle Shirtwaist Fire, the conflagration of 1911 that figures so prominently in shared narratives of American women's history, labor history and Jewish history, forces us to acknowledge a "dirty little secret" that tends to get glossed over in the retelling of the history of that event. Indeed, this widely known but rarely discussed or analyzed detail reveals much about the economic and social history of the Jewish people in the United States, perhaps because of the ethnic embarrassment and discomfort it inspires.
Simply put, the owners of the Triangle Waist Company, the villains of this story, (Jew) Max Blanck and Jew, Isaac Harris, dubbed New York's "shirtwaist kings," were Eastern European Jews like so many of the fire victims.
These two arch Jew "bad guys" had refused two years earlier to give in to the demands of the shirtwaist strikers in the "Uprising of the 20,000." They (2 Jews) would not participate in the Protocols of Peace, which sought to bring order and conciliation to the tumultuous field of labor relations in the garment industry. They (2 Jews) had failed to comply with even the most bare-bones state safety regulations, and they (2 Jews)  locked the doors of the factory from the outside, trapping the workers and dooming them to their fiery deaths. These two (Jew) immigrants to America shared with the workers the common culture and heritage of Eastern European Jewry. Like the majority of the workers, women and men, Jew Blanck and Jew Harris, counted themselves among the Jewish people.
Jews, Blanck and Harris had come to the United States in the 1890s, young Jewish men in search of economic security. The 2 Jews differed little in that way from the families of the fire's victims and the hundreds of other workers who crammed into Triangle's workrooms. The two Jewish men began the process of moving up the entrepreneurial ladder of the garment trade, starting out as workers and then becoming bosses of one of the largest and most modern of the factories. The 2 Jews had just come a generation earlier than the victims. What did this shared heritage mean for the workers at Triangle, those who perished and those who witnessed the calamity? What did it mean for the larger history of Jewish life in the immigrant era?
For one, in the Jewish milieu, the distance between worker and employer tended to be smaller than that which prevailed across the American industrial scene. Indeed, one of the male victims, Max Florin, a 23-year-old immigrant from Russia and a union member, was engaged to be married to Jenny Blanck, Isaac Harris's niece. To what degree, no historian has yet asked, did this kind of intimacy, where familial ties like that between Blanck and Florin, or ethnic and religious ties, like those that bound the Jewish workers to their Jewish bosses, shape everyday life on the shop floor and, in a larger sense, the evolving industrial relations in garment making?
The Blanck-Florin romance could not have blossomed in the industries to which most other immigrants flocked, and as such could not have shaped the nature of community life in the other ethnic enclaves. Polish, Italian, Hungarian, Slovak, Irish, and other European immigrants, in the main, came to America and worked for "Yankees." Laboring in steel mills and in railroad, street-paving, canal-digging, and road-building gangs, they had as their employers people who were primarily white Protestant Americans. These employers considered that they had no responsibility for the millions of immigrants who worked for them. If they distributed charity or improved the conditions in their plants, they did so out of the goodness of their hearts. The work lives and the eventual union activities of these immigrants took shape in large measure as a reaction to the "strangers" for whom they worked and who exploited them. Other than in the movies, a courtship between the niece of the boss and a lowly worker who belonged to a despised union could not have taken place.
For Jewish immigrants, a majority of whom in early-20th-century New York labored in the garment industry, the only line that separated them from Max Blanck and Isaac Harris was one of class. The workers could rightly ask themselves individually and as a collectivity, what right did these two have not only to live so much better than they did, but to exploit them with their fetid work rooms, low wages, and miserable conditions? If "all of Israel are responsible one for the other," then Blanck and Harris bore an obligation to the women and men who cut, sewed, stitched, and pressed the garments from which they could support their fine lifestyle.
The assumed communal responsibility helps us understand a number of the forces that operated on the Jewish labor scene in the years surrounding the fire. In 1909, amid the tumult of the "Uprising of the 20,000" by Jewish female shirtwaist strikers, Louis Brandeis, (notably Brandeis Jew who was appointed first Jew Supreme Court justice after they framed President Wilson with an affair love letters. Think Jewess Monica Lewisky, blue dress with White President Clinton's sperm on it! It's already boring I have so much on them.) Louis Marshall and other notables of the American Jewish world stepped in and basically said that the employers did owe the workers, as Jews, certain basic rights and considerations. These well-connected, self-appointed leaders of the community took it upon themselves to negotiate for the workers with whom the employers would not talk terms. They used the argument, whether accurate or not, that Jews as a whole would suffer and anti-Semitism would increase, if Jewish strikers massed on the streets, picketing Jewish-owned factories, and if Jewish employers subjected their workers to horrendous conditions.
The proximity between Jewish workers and Jewish owners had yet another implication for Jewish life in America. While we cannot know what the female workers bent over the sewing machines on the eighth, ninth, and 10th floors of the Asch Building thought about their future and what that future might have to do with Blanck and Harris, Jewish men in the workroom could see two men, Jews and immigrants, who had begun no differently than themselves and had "made it." Given the small size of most garment establishments, including Triangle, and the relatively low levels of capital needed to glide from working for someone to becoming a boss, Jewish men, including the unionists, saw in Blanck and Harris not only exploiters who would not listen to either the union demands or the entreaties of men like Brandeis and Marshall, but also models for what they themselves could achieve. If the Blancks, Harrises and all the other owners of the hundreds of garment establishments in New York were entitled to a good life, then they, too, the sewing machine operators, cutters, and pressers, deserved one, too.
That aspiration, whether fulfilled or not, did not put a brake on unionization but stimulated it. The fact that their exploiters came from the same community and shared a common tradition and fate made the workers feel even more justified in their sense of entitlement and their view that the union would be the vehicle to bring them, at least, to a middle-class status for themselves and a different kind of life for their children. The history of the Triangle Waist Company and its fire offers a peek into intra-Jewish communal conflict and makes us think of Jews not just as victims and activists, but also as the exploiters whose inactions put so many in harm's way.
Hasia R. Diner is the Paul S. and Sylvia Steinberg Professor of American Jewish History and the director of the Goldstein-Goren Center for American Jewish History at New York University.
Read more: http://forward.com/articles/136228/the-jewish-bosses-were-exploiters-and-role-model/
More from a Jewess survivor, so happy in USA, learned 7 languages and lived to be 100. Not raped, beaten, abused, fired, hacked, black-balled, death threats as  I suffered in USA.