It's historic a Senate wanted to debate or filibuster a Supreme Court Justice Nominee, as President Trump appointed Neil Gorsuch. I'm glad the Senate voted for cloture to give an up and down vote for Gorsuch.
Yet when I searched the first filibuster it was for Jew's rights in the Treaty of Versailles after World War I. It literally destroyed Germany, making them pay reparations beyond comprehension. It crippled White Germans (our smartest) so Jews could buy up Germany pennies on a dollar, rape White German women and girls, turn the German men and women into homosexuals, lesbians, it a wheelbarrow full of German money to buy an egg, 200,000 White German suicides each year, turned the young school boys and girls into drunks, fighting, tobacco: unteachable. Just as it was in my Sauk Village Illinois 1970. Even my brothers, English teachers vouched for that. The Treaty of Versailles was said to be the worst in history. "That" I can see might necessitate filibuster by White people whose German kin's life would be totally ruined.
So I searched on Internet what cloture and filibuster meant. I came up with the fact the first filibuster was good. (Not this attempt though today.) Note one man talks all night and the others fall asleep. The first filibuster was in 1919 against the Treaty of Versailles.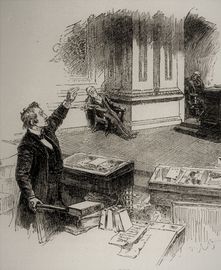 https://www.senate.gov/artandhistory/history/common/briefing/Filibuster_Cloture.htm
"The Treaty of Versailles (French: Traité de Versailles) was the most important of the peace treaties that brought World War I to an end. The Treaty ended the state of war between Germany and the Allied Powers. It was signed on 28 June 1919, exactly five years after the assassination of Archduke Franz Ferdinand."
Note it was 5 years to the day after (Jew involvement) of assassination not just of White Archduke but his wife, Sophia, in an open carriage. Same as President Kennedy and his wife Jacqueline. (also have Jews as suspect in that assassination.)
From my blog: Treaty of Versailles: Jews against Whites.
"After World War I, 1918, the Treaty of Versailles against White Germany, was said to be the most destructive ever set to pen in history. It's signers were (White) but the ones who told the Whites what to do, were all Jews representing the major signers."
Streicher Discovers The Cause Of Germany's Humiliation: Allied soldiers occupied Nuremberg in 1918 and continued the "starvation blockade" of Germany to compel acceptance of the Versailles Treaty. This "Treaty of Shame" decreed that the German Army be composed of no more than 100,000 men, that her fleet be scuttled, billions paid in war reparations and most humiliatingly (and falsely), agree that Germany was the sole cause of the War.
The catastrophic inflation of the Weimar Republic began at this time. The savings of every German were wiped out. Jews were then able to buy up newspapers, industries, thousands of city blocks of apartments and thousands of small businesses for a fraction of their value. Civil war raged in the streets of German cities, incited by the same Jewish Bolsheviks whose coreligioists were pillaging Russia.
Streicher was fortunate to have his old teaching position, as millions were thrown into unemployment.
(How Jews destroy Christianity) "England's only Jewish Prime Minister was Benjamin Disraeli (1804-1881), who in his book, Lord George Bentick, wrote on page 357:
"An insurrection takes place against tradition and aristocracy, against religion and property…by the secret societies which form Provisional Governments, and men of the Jewish race are found at the head of every one of them. The people of God (Jews) cooperate with atheists; most skillful accumulators of property ally themselves with Communists; the peculiar and chosen race touch the hand of all the scum and low casts of Europe; and all this because they wish to destroy that ungrateful Christendom."

stormfront.org