Something woke me up at 3 a.m. I was led to check out eurofolk.radio.com and listened to listened with headphones (apartment living) to Bertrand Comparet of Christian Identity, "Was Jesus a Jew?" He mentioned the book below and he thought was the most important book to read. I immediately ordered. In my studies too, but painstaking research and sacrifice, I realized the Iron Curtain Jews slapped over my Poland (where all Jews come from) in 1945, is now over the USA. Jews kept us silenced from 1025-1945 and through their World War II manipulation and manufactured "Holocaust" for Jews only, not White version or Christian version, moved their entire population of Poland to USA. Including bankers who controlled all seven Polish tribes since 1025 and I wonder until today if the Poles are dealing with the Jews to attain their sudden business success from lowest of European economies to #1. Hopefully, not.
Moreover, I'm widow of US Marine Purple Heart Hall of Honor, who suicided pulverized not just in Vietnam, but back in USA. Last words: "No help for the White Man!" Autobiographically speaking, I recall his words after we married. He was a Corporal "US Marines" We were never fighting the small country of Vietnam, we were fighting "Communist" China. He didn't know the Jews were the bankers, the Whites and Yellows their bodybags. Jews started Communism, took over Christian Russia, responsible for 100,000,000 White Christian deaths only from 1917-1967. Now they rule in camouflage making us "believe" as we are part of their religion against our will, we are happy, free, successful.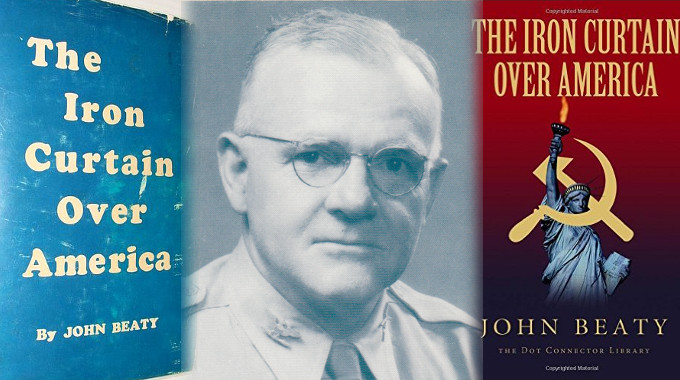 "To the mighty company of American soldiers, sailors, airmen, and marines whose graves are marked by white crosses far from home this book is dedicated with the solemn pledge that the Christian civilization of which they were the finest flower shall not die."
By John Beaty
Lt. Gen, George E. Stratemeyer, USAF (ret.), says:
"I congratulate you on your book and the service you have performed for our country. If my health would permit it I would go on a continuous lecture tour gratis and preach your book and recommendations. My "Iron Curtain Over America" will be on loan continuously and I intend to recommend its reading in every letter I write.
Lt. Gen. Edward M. Almond, USA. (ret.), says:
"It is an inspiration to me to find an author with the courage and energy to research and to secure the publication of such information as you have assembled in order that the poorly informed average American may know wherein the real threats to our Country lurk. Your book is a magnificent contribution to those who would preserve our American ideals."
 "I think it ought to be compulsory reading in every public school in America."
Senator William A. Langer, former Chairman, Judiciary Committee.
Read book, (Although I ordered mine since even the Internet preaches the printed copy is more effective for school and learning.
http://www.sunray22b.net/iron_curtain_over_america.htm
(Here's review)
Reviewer:
PeterBoss
–
favorite
favorite
favorite
favorite
favorite
– September 16, 2009
Subject:
book review
Easy to understand and to the point. Factualy and historicaly acurate. Extrememly pro-Christian. A must for every Christian to read. If it's anti-semetic because of exposer of the Jews who are the putrid force in Hollywood and Washington and the meat, poultry, and food industry that is poisoning we Christians, then yes it is that and more. Amen
From Metapedia.com
Published works
An Introduction to Poetry (1922)
An Introduction to Drama (1927)
Race and Population (1928)
Texas Poems (1936)
Swords in the Dawn (historical novel, 1937)
Image of Life (1940)
The Iron Curtain over America (1951) text
How to Capture a University (pamphlet, 1954)
The Cry of Anti-Semitic (pamphlet, 1954)
Crossroads (1956)